First on the lineup is "Global Citizen," a capsule collection that takes center stage in championing education and equity. Explore a new era of style that carries a powerful message. This collection is more than fashion; it's a statement, and you're invited to shop and support a cause.
But that's not all—we're thrilled to announce the return of an icon with "ES22 Drop 2." Welcome back the ES-22, a vintage '90s shoe inspired by the legendary career of Emmitt Smith. This is more than a sneaker; it's a return to an era where champions ran the game and influenced the culture, echoing the triumphs of Smith and his three Super Bowl wins.
Reebok continues to blend style, purpose, and nostalgia, and we're excited to have you be a part of it. Stay tuned for release dates as we prepare to share more exceptional collections!
Be sure to check out the assets below!
Cyber Week Affiliate Exclusives:

☆11/21/2023 – 11/26/2023: Exclusive Black Friday: 50% off Sitewide + 60% off Sale with code BFEXCLUSIVE

☆11/27/2023 – 11/30/2023: Exclusive Cyber Monday: 50% off Sitewide + 65% off Sale with code CMEXCLUSIVE
Offer: Up to 65% off Sitewide
Run Dates: 11/01/2023 – 11/20/2023
Promo Code: N/A
Shop Now: Reebok's Up to 65% off Sitewide
Offer: $19.97 Hoodies and Joggers!
Run Dates: 11/14/2023 – 11/20/2023
Promo Code: WARMUP
Shop Now: Reebok's $19.97 Hoodies and Joggers!
Offer: Up to 60% off Select Styles
Run Dates: 11/21/2023 – 11/30/2023
Promo Code: N/A
Shop Now: Reebok's Up to 60% off Select Styles
Offer: Black Friday 50% off Sitewide
Run Dates: 11/21/2023 – 11/26/2023
Promo Code: BLACKFRIDAY
Shop Now: Reebok's Black Friday 50% off Sitewide
Offer: Exclusive Black Friday: 50% off Sitewide + 60% off Sale
Run Dates: 11/21/2023 – 11/26/2023
Promo Code: BFEXCLUSIVE
Shop Now: Reebok's Exclusive Black Friday: 50% off Sitewide + 60% off Sale
Offer: $55 Nano X2 Training Shoes
Run Dates: 11/14/2023 – 11/30/2023
Promo Code: NANO55
Shop Now: Reebok's $55 Nano X2
Offer: Cyber Monday 50% off Sitewide + 60% off Sale
Run Dates: 11/27/2023 – 11/30/2023
Promo Code: CYBERMONDAY
Shop Now: Reebok's Cyber Monday 50% off Sitewide + 60% off Sale
Offer: Exclusive Cyber Monday: 50% off Sitewide + 65% off Sale
Run Dates: 11/27/2023 – 11/30/2023
Promo Code: CMEXCLUSIVE
Shop Now: Reebok's Exclusive Cyber Monday: 50% off Sitewide + 65% off Sale
---
REEBOK DROPS
THE LEGEND OF EMMITT
Welcome back the ES-22. This is a return to an era where champions ran the game and the culture. Inspired by the legendary career of Emmitt Smith, and his three Super Bowl wins. This vintage 90s shoe has returned.
REEBOK X GLOBAL CITIZEN
A new capsule collection that brings education and equity center stage. Shop the collection.
50 YEARS AND COUNTING…
Discover the impact of Hip Hop's 50-year legacy through our exclusive capsule collection, with graphics by Richard Tu and utilizing the photographs of Joe Conzo, and marketing content shot by the Statement Modelz. Elevate your streetwear with Reebok's tribute to the culture that changed the game.
CROSSOVER TO THE OG
The Answer II is back in the OG red/white colorway.
THE OFFICIAL SHOE OF MOTIVATION
The new colorways that inspire you to get up and get on.
FOR THE LOVE OF RUNNING
There's no such thing as a run that takes you nowhere. It's just about finding out where that somewhere is. The Floatride Energy 5 Adventure is out now to take you wherever that place may be.
BEST SELLING GIFTS
Win gifting season with gear they'll love.
GIFTS FOR HIM
Comfort & confidence come together with gear that outshines the competition.
GIFTS FOR HER
Fitness gear, classic shoes and athleisure chosen with her in mind.
GIFTS $50 AND UNDER
The merriest gifts are within reach.
STOCKING STUFFERS
Even the smallest gifts bring big joy.
THE OFFICIAL SHOE OF GETTING THINGS DONE
Inspired by the grit of the worker and a can-do attitude. See how utility and style come together with Nano X3, Nano X3 Adventure and Nano X3 Froning.
THE LEGEND OF EMMITT SMITH
ES22 is back to celebrate its 30th anniversary in the OG colorway.
REEBOK X JUSTIN FIELDS
In the first roster move back into the Football world, Reebok is excited to announce a championship-level partnership. Together we're bringing Reebok Classics like Nano X3, Classic Leather and BB4000 II, but also performance apparel like joggers and tracksuits.
RETRO BASKETBALL SHOES FULL OF EARLY – '90S SWAGGER
The Pump Omni Zone II carved a place in history through the dunk contest, propelling gravity-defying memories that live on to this day. We brought back these men's Reebok shoes in the OG burnt orange colorway for a vintage touch. The iconic Pump on the tongue adds the unmistakable look that captured the '90s.
INTRODUCING THE REEBOK X VEEFRIENDS CLASSIC NYLON SHOE!
Get your OG Reebok shoes designed in collaboration with VeeFriends. Shop the VeeFriend's Aspiring Alpaca shoe today.
STAY ON TRACK
Stay on top of your game with Reebok's vector logo tracksuits. The epitome of style and performance featuring that sleek vector logo.
NANO X3 FRONING
Created with champion Rich Froning Jr., this pair helps you meet any challenge.
FLOATRIDE ENERGY 5
Pass any run test with flying color with the Floatride Energy 5. Now in new colors.
THE OFFICIAL SHOE OF CONFIDENCE
Nano X3 bold from Reebok – the official shoe of confidence. Go with Nano X3 bold when you're bored with beige.
AN ANSWER FOR EVERYTHING
The Question Mid returns in it's OG colorway.
ICEY COLD CLASSICS
Our essential sneakers keep it cool for the season.
HERITAGE ON THE HARDWOOD
The Pump TZ changed basketball sneaker technology and style forever. Of course, it was the iconic orange ball Pump Technology, but the high-cut design and TPU reenforced upper added the extra plus-ups that make for easy lay-ups.
DRESS FOR THE DAY
Comfort meets luxury in the Lux Strappy Dress. Meet your new favorite activewear.
FOMO IS DEAD
It's time to stop regretting all that you didn't do. The FOMO is Dead collection, featuring Classic Leather is here to remind you that getting out there and participating in life sometimes means getting your shoes dirty. These shoes are built to last and made to be lived in.
THE BLAST SHOES
Reigniting cues from the 1996 Mobius collection, these Reebok shoes spark a modern approach to a blast from the past. Their flashy, asymmetrical look is created by the contrast of positive and negative light. Put them on and let everyone see that OG hoops style.
CLUB C BULC
The Club C Bulc is here. Welcome an iteration of an icon into the rotation that defines and denies everything that tries to hold it in place. Equipped with Y2K- style laces, a padded tongue, and skate royalty-era vibes.
ACT LIVE YOU NEVER LEFT
The BB 4000 II is back. A classic shoe reborn into a new generation. Inspired by the court and made famous on the streets surrounding it. Now available in mid and low cut.
COLORFUL POWER MOVES
With more colors in the Legacy and Pump technology, you can dominate the competition.
BACK TO SCHOOL
Ease into fall semester with pieces from our Back to School assortment. Find signature activewear and comfort layers inspired by campus life.
SUMMER BLUES
A new iteration of Question Low returns, and right on time for the summer courts.
BB ON TOP
Whether you're hitting the gym or dominating on the court, the BB4000 II is the perfect sneaker to help you unleash your potential and make a statement.
FEEL THE HEAT
Shaq Attaq's retro design with Pump Technology celebrate the big man's time in the sunshine state.
FIND YOUR ZONE
These Blacktop edition with Pump Technology give you the support and custom fit you need. And they're back in a new colorway.
NANO X3 SUMMER COURT
Just in time for the summer months. Go with Nano on your next boardwalk workout session.
THE PUMP TZ
The Pump TZ return in their original colorways. Taking design cues from their 90s roots and refreshed for today.
REEBOK X MILK MAKEUP
Introducing a collaboration that features a minimal design, functional mindset and sustainable values. And one that highlights the importance of quality work and beautiful play. See this new collection of vegan shoes that include the Club C, Classic Leather and BB 4000 II and apparel.
MY NAME IS
After 30 years of the Vector, we're finally calling out our classic sneakers. And for the first time ever, you will find official model names minted on their tongues as a badge of honor.
BET ON RED
Lightweight, breathable and durable. In the color you've been waiting for.
MY NAME IS BB4000 II
The Reebok BB4000 II is a classic sneaker that's perfect for adding a retro touch to your casual outfits. Its sleek and streamlined design has made it a popular choice for casual wear, and it can be paired with everything from joggers to jeans.
HIGH STYLE
Make a statement with the women's Freestyle Hi and head way back in retro lore. Step out with stylish high-tops that feature leather uppers, padded collars and ankle straps that give you an extra kick of cool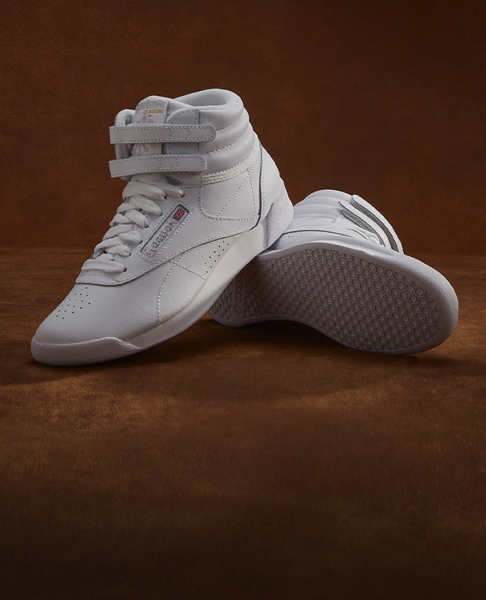 COLLEGIATE PACK
Three icons. New colorways. One drop. The Question Mid, Answer DMX, and Pump Omni Zone II are here.
ZIG DYNAMICA 4
Introducing the next Zig in the series. Made with our most responsive FuelFoam yet for more comfort without compromising style.
NANO X3 REC CENTER
Kicking it back to old school with the Nano X3 Rec Center pack inspired by gym-class pinnies. You're never too old to add fun into your workout.
BALLER MOVES
You fell in love with hooping at the Rec Center. A new colorway of Pump Omni Zone II and Question Low pay homage to that fondness. See lively speckle detail outsoles and sockliner graphics. An eye-catching color and Pump technology take classics a step further. Go back and relive your glory days.
LIVE EXTRA CLASSIC
Why be ordinary when you can be extra? The Extras Collection is taking the platform to new heights with a pumped-up lightweight sole.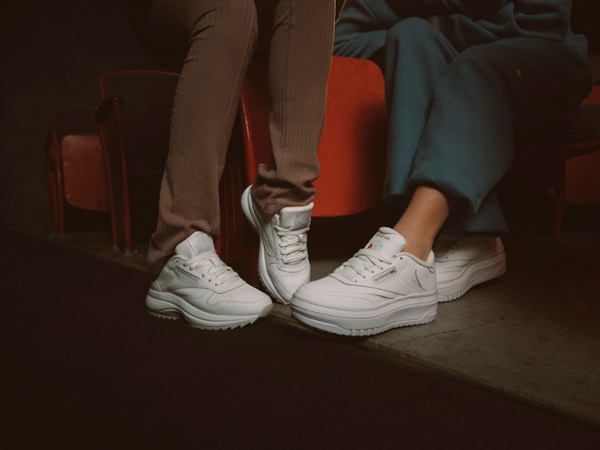 THE NEW NANO X3
The Nano X3 is the most dialed in Nano yet with a focus on comfort and support while offering a fresh new look and feel.
SHAQ ATTAQ
The epic comeback in a new colorway. Inspired by his first signature sneaker, these kicks celebrate the larger-than-life icon and the 30 years since the original '92 release.
DON'T SHY FROM THE MOMENT
The Question Mid Yellow Toe is for the fearless. For those who want the ball in their hands. Even when legacies are on the line.
THE NEW NANO X3
Go harder, push further—and take your workout to the next level. The Nano X3 is the perfect training partner because you can trust it to have your back when sprinting, squatting, lifting and breaking personal bests.
LOOK BACK, FUEL THE FUTURE
A vintage take on an icon, the Classic Leather Preserve the Past balances vintage and modern with cracked leather side stripes and vintage feel. Wear them with everything from the then to the right now for a classic take with a modern vibe.
REEBOK X YARD LOVE
New colorways that honor those before us and inspire the upcoming class. Reebok pledges to donate a minimum of $25,000 to UNCF (United Negro College Fund) in celebration of this capsule.
YOU'RE GETTING WARMER
New cotton essentials to see you through the winter. Start with a cozy base layer, but don't stop there.
PUMP UP YOUR COLOR
The iconic shoe is back in a new colorway that brings old-school cool back to the streets. A white base with hints of red that's rooted in Reebok signature color, make them the perfect looking shoe post-Holiday.
---
EVERGREEN OFFERS
NEW YEAR, NEW GEAR
Gear up to push your boundaries. A new year means no limits.
NEW YEAR, NEW PERSONAL BESTS
Hit the park for stair sprints and bench dips with versatile and comfortable shoe designed with a lightweight feel and responsive ride. The great outdoors is calling…answer it.
REEBOK X STREET FIGHTER™
The new Reebok x Street Fighter™ collection is designed to equip you with the gear you need to become a champion.
SECOND TO NONE
The Nano X2 Froning is stripped down for an ultra-lightweight model with Floatride Energy forefoot and is ready for speed—because every nano second counts.
REEBOK X CARDI B
Cardi B is bringing that attitude in the final Reebok x Cardi collection. Each color and design channels Cardi B's vibe for authentic style and self-expression. Bottom line, this all-inclusive collection of apparel and shoes makes a bold statement and brings high energy vibes to whatever you do.
REEBOK X BRAIN DEAD
Reebok X Brain Dead continue their epic collaboration with the new release of Shaqnosis. The artistic collective drew inspiration from the Twilight Zone and took Shaquille O'Neil's signature shoe to an unknown realm of amazing. The silhouette features marbled leather upper and wrapped in layers of shaggy suede that give is an optical illusion of falling for an unreal look that is out of this world.
ANSWER THE QUESTION
Like Iverson's move to Denver, The Question Mid On to the Next represents the next steps. Keep those next steps always moving towards the court.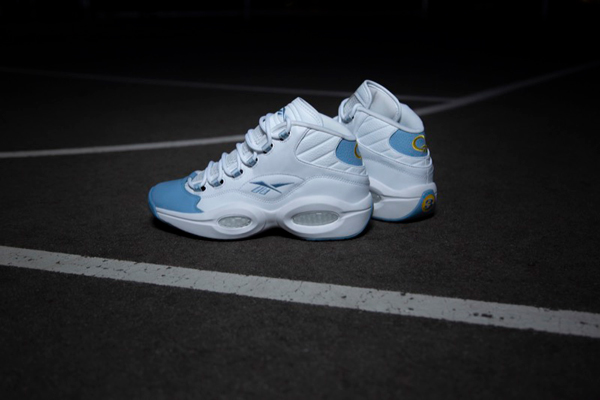 BREAKIN' RIMS
The iconic shoe is back in a new colorway that was inspired by Shaquille's lasting LA legacy. These kicks pay homage to his rim rattling throwdowns and explosive power—and continue a long line of his signature shoe releases.
REEBOK X PEPPA PIG
The latest collaboration with Peppa Pig introduces her friends and family to Reebok. Featuring a Danny Dog-inspired purple CL Jogger, a sheepish special edition of the Classic Leather, brought to you by Suzy Sheep, as well as a Complete Clean, complete with Peppa's family and all her favorite things. You can also find pig-tastic iterations of the Zig Kinetica and Club C inside the collection.
BE A BALLER
The OG shoes with OG colors is back with signature features like the I3 jewel logo, black crystal rubber outsole with gold fleck and Iverson detail on the tongue. They make Allen Iverson proud.
ONCE AN OG, ALWAYS AN OG
The Hurrikaze II pays homage to Shawn "the Reign Man" Kemp and his rim shaking dunks. They feature the Reign Man's old squad with a green and white colorway, and OG shoutout to the Pacific Northwest. A bold Hurrikaze upper design and a water droplet material accent finish the shoe and give it style that stands up to the test of time. Because as all ballers know, once you're an OG, you're always an OG—and you're welcome back whenever you want. And for this iteration of the shoe, it's been 10 years. Welcome back.
REEBOK X PANINI
Every so often, an icon is born. Something rare. Whether at your local bodega or a neighbourhood basketball court. Reebok x Panini honors those icons. A retro apparel line up and three unique Question colorways inspired by Panini's most coveted Prizm trading card parallels. Rookie Signature, Tiger Stripe, Pulsar. The rarest of rare. Pull up and shine.
REEBOK X SMILEY
The 50th anniversary of the original Smiley, celebrated through the equally iconic Classic Leather Pump. The style staple has been redesigned to appear as a blank canvas, which you can scratch away to reveal artwork by Mr. Andre, creating your own unique sneaker. Throw PUMP technology in the mix, and you've got a shoe you can celebrate your smile in, in style.
REEBOK X BB
Born on the hardwood. Remade for you. Rock those OG B-ball vibes every time you lace up these BB 4000 II shoes. So clean. So fresh. All Reebok, all day.
A CLASSIC COMEBACK
Everyone loves the return of an icon—the Question Low is back in a new black and white colorway. As a part of Allen Iverson's ever-lasting legacy, these shoes pay homage to the player who redefined the game. This iteration includes a patent-leather toe and low-cut basketball colorway with ice outsole. This pair is as iconic now as they were when first released.
REEBOK X CONCEPTS
Inspired by the draft '96 draft class—arguably one of the best of all time—these Question Mids tell a story of individuals united by the love of the game. And is underpinned with shout out to Allen Iverson's loud style (that year's #1 pick).
REEBOK X CARDI B
There's no holding back the energy Cardi B brings. The all-new Club C Cardi V2 are available in adult and kids' sizes, while Cardi Slide and inclusively sized apparel collection are for adults only. Each piece brings a bold design and fresh vibe that only the queen can.
Allen Iverson was a legend on and off the courts and his signature Question Mid take after their namesake. These iconic shoes are coming back in a lux edition that's one for ages. Premium upper and metallic accents add to its iconic status. Whether ballin' or stylin', these classic pair break ankles and turn heads.
Take a walk on the wild side with the Reebok x National Geographic collection. Featuring bold patterns and textures, you'll be the leader of the pack.
The Answer IV takes its cue from its namesake Allen Iverson. It's all about balling on and off the court. It has a custom sockliner graphic and zip shroud disguising lining graphic and lacing system, and features an AI face graphic on the outsole. This clean basketball colorway takes this iconic shoe next level—and like A.I., this shoe's reputation proceeds it wherever it goes.
Brooklyn-based screen printer and design collective LQQK Studio has put its own creative spin on Reebok's most well-know silhouette, the Classic Leather. This printing-inspired shoe is one that people of all backgrounds can connect to, while encouraging creativity and evolution.
Celebrate Victoria's vision and style through a sportswear lens.
The 30th anniversary of the original Shaq Attaq is here, along with a brand-new offering with OG flair and new modeling. Get pumped and get your own pair.
Life finds another way. Step out into a prehistoric future in Reebok's latest collaboration with Jurassic World.
The new colorways of the women's Classic Leather SP give these vintage shoes a fresh look.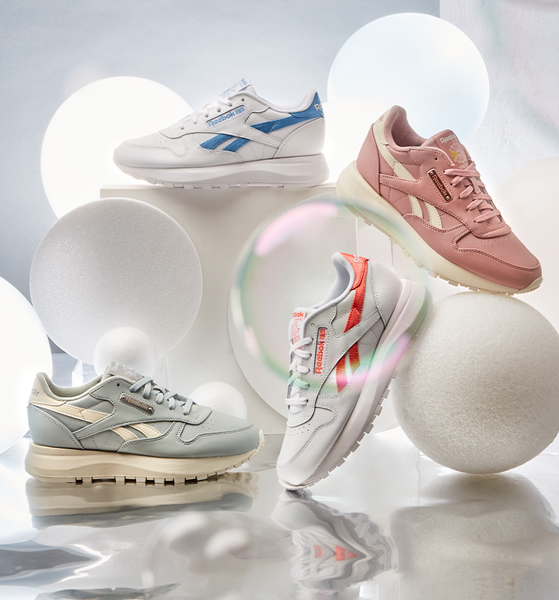 Gear-up your grindset. Like Allen Iverson, the man who inspired them, the new Reebok Question Mid mutes the doubters and challenges expectations. Haunt your court in a shoe that's as hard as you. Turn heads and break ankles with a signature contrast-color toe and crystal rubber outsole. Make no mistake with Reebok-lettered eyelets and the unforgettable Question Mid profile.
Puerto Rican artist Anuel AA has blessed Reebok's next fashion release with platinum beats and diamond style in the iconic Pump Omni Zone II & Classic Leather.
Whether you want to stay in the gym or explore further. The comfort and durability of the Nano X2 Adventure give you the freedom you need to choose. Your workout happens where you decide. Don't miss out.
Cement your place amongst the best with the iconic Question Mid Blue Toe.
This epic collaboration continues with a fresh take on the iconic Club C Revenge inspired by nature and the great beyond.
Reebok X Popsicle ain't for lickin', but they are for wearing. See the stylish, rich colors of this epic collaboration.
There's nothing like an original. Allen Iverson's legendary Answer DMX OGs are back and nothing's standing in the way.
Nano X2 is now here in red, white and blue. Inspired by your fierce summer workouts.
The legendary Pump Omni Zone II returns in a chalk, red and blue colorway that nods to Reebok's heritage and classic Americana.
A little study, a little chat. A Little hitting the books, a little playing around. Get back into it with fresh new gear that brings the style A-game.
As a tribute to another Philly legend, Allen Iverson wore these Question Mid's with the #6 emblazed on them during the 2022 all-star game. The new colorway is a throwback feel and a special nod back to those who came before. But like A.I back in the day, these Mid's look to inspire the next generation of ballers.